Overview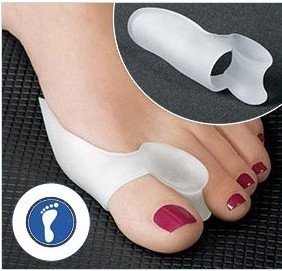 A bunion is a foot deformity where your big toe slants outward horizontally, pushing the tip of the big toe up against your little toes, and creating a characteristic sharp angle along the inside of your foot, at what?s called the first metatarsophalangeal joint-where your big toe connects to your foot. The reason for the deformity is an abnormal growth of bone, so it is not a condition that will correct itself naturally. Though bunions, or hallux valgus, as they are known in the medical community, are well-known among the general population for causing pain and discomfort, they can have a big impact on your running as well. Women?s marathon world record holder Paula Radcliffe, for example, lost several months of running because of a bunion on her foot.

Causes
Bunions have a number of causes, primarily genetics and bad choices in footwear. We inherit traits like flat feet, abnormal bone structure, and loose ligaments and tendons from our parents. When our feet are weakened by these traits and we stuff them into high heels or shoes which don?t support our feet correctly, the repeated stress on the front of the foot may contribute to the formation of a bunion. Other contributing factors are jobs that demand a lot of time standing, obesity, and sudden hormonal changes and weight gain, as in pregnancy. Unfortunately, bunions can lead to many other foot conditions as well. The joint behind the big toe carries much of your body weight and when the bunion makes it sore, you shift your weight onto other areas of the foot. That?s why we frequently see crossover toes, overlapping toes, hammer toes, corns, calluses, and ingrown toenails accompanying bunions. As pain in your foot increases, you?ll also reduce your activity, becoming more sedentary, which has its own quality-of-life issues.

Symptoms
Symptoms of a bunion include irritated skin, sensitivity to touch, and pain when walking or running. Since the bunion may grow so prominent as to affect the shape of the foot, shoes may no longer fit properly, and blisters may form at the site of friction and pressure. Bunions may grow so large that an individual must wear shoes that are a larger size than they would otherwise wear. If the bunion becomes a severe case, walking may become difficult.

Diagnosis
Your doctor is very likely to be able to diagnose your bunion simply by examining your foot. Even before that, he or she will probably ask about your family and personal medical history and evaluate the types of shoes you wear. You'll be asked about your symptoms, when they started and when they occur. You may also be asked to flex your toe so that your doctor can get an idea of your range of motion. He or she may order x-rays in order to determine the extent of your deformity.

Non Surgical Treatment
Patients should immediately cease using improperly fitted shoes. Footwear selection should have a wide and roomy toebox to accommodate the full width of the foot. If the problem is the over-pronation, the patient should be fitted with orthotics and can expect a slow recovery from pain over a period of months. Orthotics will not cause the physical deformity to regress, but will simply arrest any further progression and likely stop the pain. It is important to note however, that when bunions are severe and require surgery, the bunion can be corrected, but will develop again unless the root cause of over-pronation is corrected. If over-pronation is the root cause, orthotics will still be necessary.


Surgical Treatment
Depending on the size of the enlargement, misalignment of the toe, and pain experienced, conservative treatments may not be adequate to prevent progressive damage from bunions. In these cases, bunion surgery, known as a bunionectomy, may be advised to remove the bunion and realign the toe.